High Quality Response to a Diverse Brief
24 July 2017
The new Sherratt Ingredients building in Hobsonville presented multiple challenges for the team at Gel.
The task was to create a home for this importer and distributor of high-quality food ingredients, comprising a large storage area, blending and laboratory facility and a sleek, modern headquarters.
The site, in Hobsonville, was close to the local school so the first challenge was to design the large factory space Sherratt needed while being sympathetic to the surrounding community.
We located the 3000m² factory and warehouse to the rear boundaries of the site and softened it with native trees and landscaping. At the same time, we wanted to shield the Sherratt staff from the prevailing westerly winds while they are receiving deliveries so we located their busy loading area on the eastern side of the warehouse.
We spent a lot of time streamlining the delivery options for the business, creating a loop road for trucks to roll-up and drop-off that is sheltered and separate from the public car parking area – for added safety and convenience.
The administration building was an opportunity to use contrasting materials to soften the impact of the large pre-cast concrete factory next door.
Pre-cast concrete is a great material for manufacturing as it minimises horizontal surfaces, which catch dust, and it has the bonus of being environmentally friendly, cost effective and extremely durable.
However, we wanted large windows illuminating an open plan office for the administration building, which is part of encouraging interaction and communication between staff and management at the family-run company.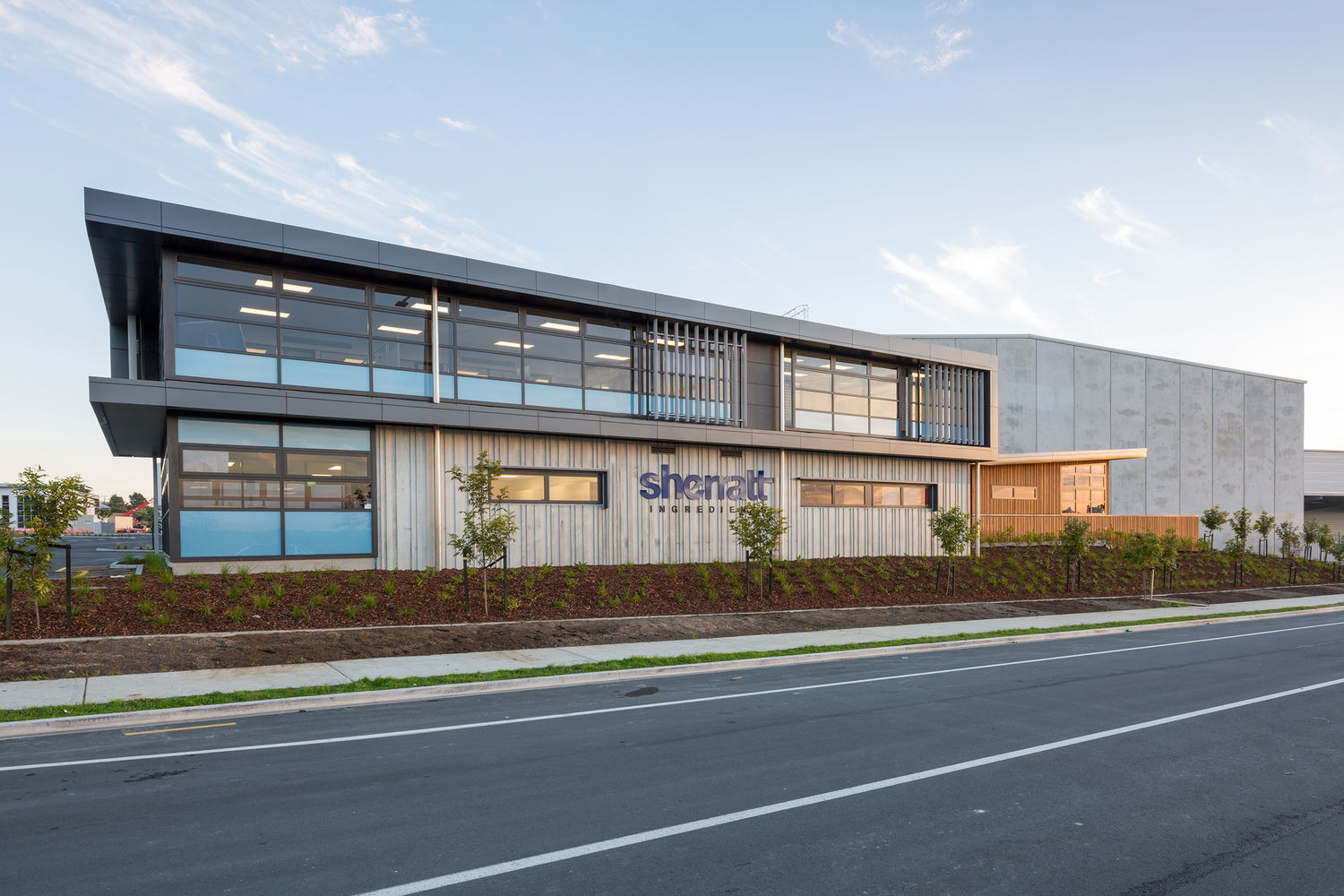 With that in mind, the lunch area is located in the sunniest part of the site with a generous deck and views towards the nearby green areas. It's finished with wood to soften the appearance of the factory and complement the landscaping.
The main entrance connects the multi-faceted buildings together, with the large light-filled atrium and wide eaves providing sun protection while also adding height and interest.
We've worked closely with the owners at Sherratt to create a prominent and unique home for their business. It encompasses their complex needs and is future-proofed for continued expansion, meaning they will have a healthy and productive base for years to come.
If you have any questions or need assistance planning a new Commercial Building, please contact us at hello@gelarchitects.com or on 09 368 4403. We'd love to help.